This article is about the monster. For the demi-powers, see Ambrosia. For the hero, see Ambrosia (hero).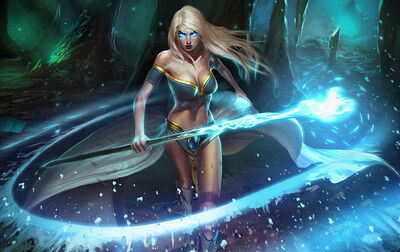 Ambrosia can be summoned on the Alchemy Summons page if you have the Orb of Ambrosia, which comes from the Fire II's Special Mission: A Mighty Figure

and are at least level 100.
You have 168 hours to defeat Ambrosia before she flees.
Basic information
Monster Details

| Name | Type | Divine | Breakpoint | Time to kill | 5% Health (Conquest) |
| --- | --- | --- | --- | --- | --- |
| Ambrosia | Epic Boss | 220 | 320 | 168 hours | 32,500,000 |
Target Areas
Resistance
Target
Health
Physical
Fire
Earth
Wind
Water
Note
Ambrosia
650,000,000
0
0
0
0
0
Monster Loot
1 Epic
2 Epics
3 Epics
Legendary
Gold Medal
1%+
6,220,000
11,090,000
19,550,000
33,000,000
99%+
9,860,000
18,680,000
31,100,000
59,030,000
17,000,000
Source: Castle Age Monsters Damage/Loot Spreadsheet
Use this text string to post DMG needed in monster chat:
1 Epic 9.9M, 2 Epic 18.7M, 3 Epic 31.1M, Legendary 59.1M
Participants: up to 145 people total, with the following distribution:
50 people levels 150+
35 people levels 100-149
30 people levels 50-99
30 people levels 1-49
This battle uses the Monster Class and Dark Rage systems.
Additional Information
Divine Armor Inform

ation
Ambrosia has a divine armor which blocks 45% of damage per attack. It deteriorates at a rate of 0.20% per 1 divine power. It will take at least 220 divine power to nullify it completely. An active Dark Rage will contribute 40 divine power, eliminating 8.18% from its effectiveness for 60 minutes.
See Divine Item for more info.
Siege Weapons
While fighting Ambrosia, there are 5 siege weapons that can be launched to deal extra damage.
All Siege Weapons hit Ambrosia and are unaffected by blocks and resistances.
*Ambrosia has 650,000,000 HP
Name
Clicks
Damage Dealt

%HP Dealt*

Valerian Soldiers
15
49,000,000 dmg
3,266,667 dmg/click
7.54 %
0.5 % per click
Elven Rangers
30
58,400,000 dmg
1,946,667 dmg/click
8.98 %
0.3 % per click
Dwarven Militia
45
66,000,000 dmg
1,466,667 dmg/click
10.15 %
0.23 % per click
Archer Allies
60
70,600,000 dmg
1,176,667 dmg/click
10.86 %
0.18 % per click
Gray Wizards
75
81,000,000 dmg
1,080,000 dmg/click
12.46 %
0.17 % per click
Totals
225
325,000,000 dmg
1,444,444 dmg/click
50 %
0.22 % per click
Lore
Click to display
Celesta and Sylvana continue to battle despite the rift. You ride down from your tent towards the rift site. You can make out a figure coming through the rift. Who can it be?
Quest Completion
You can make out mysterious figure through the rift. It is a beautiful woman with platinum hair. It is none other than the demi-goddess, Ambrosia! As she makes it through the rift, it closes as soon as it appeared causing a large vacuum effect.
Celesta and Sylvana cease their fighting finally realizing what has happened.
Ambrosia: Such power!!! I was drawn here by these two frivolous girls fighting but now I sense something better! You!
Ambrosia shoots a menacing stare in your direction.
You: What do you want with me goddess? My dominion over the Land of Fire has nothing to do with you. Leave this plane so that I may continue my conquest.
Ambrosia: Foolish mortal. You think that I would listen to your insignificant words? You possess a powerful force. I will take it from you as I please!
Before you can utter a response, Ambrosia waves her hand in Celesta and Sylvanas direction. They are levitated off the ground with ease. A surge of energy seems to flow out from the both of them into Ambrosia as they continue to struggle. Within moments, the both of them seems to lose consciousness. Again, Ambrosia waves her hand and both, Celesta and Sylvana, are tossed aside several hundred feet away as if they were mere toys.
Ambrosia: It seems I cannot easily take your power from you. I will have to do it by force then!
Ambrosia Defeated
The battle with Ambrosia begins as she rushes forward with a look of pure bloodlust. This power she is seeking must be something considerable if it even causes a demi-god to charge in with reckless abandon. The air around Ambrosia crackles around her as the arcane energies imbue the atmosphere with pure magical energy. You grab the hilt of your sword and draw it with a single motion and with a flick of your wrist block the incoming blow from Ambrosia with ease. The clashing of weapons produces a bright flash of light as the arcane energy from Ambrosia's weapon disperses.

Ambrosia: I was right. You do contain the power of a god. After I consume you, I will be unstoppable!


It seems Ambrosia's lust for power has overridden her temperate nature. Ambrosia attacks again and again but you easily bat aside her futile attacks. You feel the power now coursing through your veins. This is true power. The power to rule this land. Your Uncle Cefka was just too weak to control this power. But you....you are a true warrior, with the will to control it and bend it to your beckoning.

Ambrosia becomes enraged that her attacks have no effect on you.

Ambrosia: You will be sorry that you have taken me so lightly mortal!


You can feel the air around Ambrosia become dense as the arcane energy around her crackles with increasing frequency. In a flash, a burst of energy explodes and seems to almost consume Ambrosia. As the smoke from the crater clears, you see a bright, blue sphere of energy approach you. Is that Ambrosia? Is that the true power of a demi-god? Finally, a proper test for your own powers.

The voices and laughters inside your head begin to pound inside your head. However, rather than crumble to the ground in pain, this time you can feel it empower you. Such great power. NO ONE CAN STAND AGAINST YOU!

Ambrosia directs her hands at you and begins an incantation. A stream of arcane energy shoots forth and hits your chest. The pain is excruciating and burns as if a great dragon breathed on you. The channeled spell stops and you can smell the scent of burnt flesh. However, you still stand and the rage causes more power to course through your veins.

Ambrosia: It is not possible for you to be alive! I should be consuming your essence at this very moment!


You: You are nothing demi-god! I shall end your existence this very moment for standing in my way!

Red and purples energies start to swirl around you. You see Ambrosia's face fill with fear. If the demi-gods cannot stand against your power, who can? You dash forward and hit Ambrosia square in the torso. She flies backward and slams against a tree. She slumps down trying to support herself against the tree with one arm. You approach her slowly savoring your victory over another demi-god. Ambrosia slowly slumps down still struggling to stand. You stand above her as you are about to end her misery with a swift blow from your sword.

Suddenly, Ambrosia's eyes start to glow and she looks in your direction. You start to levitate off the ground enveloped by a faint blue light. The world around you starts to distort. What is happening? How could Ambrosia do this to you?

The blue light around you disappears and you drop to the ground. Where are you? This is not Valeria... The soft glow of the moon shines above you. The air is frigid and the land is dark. What has Ambrosia done? You roar out in frustration but it seems there is no one around to hear you....
Rewards while fighting Ambrosia

102 Damage Essence
Rewards after slaying Ambrosia
Uncommon

 

Drops

Rare

 Drops

Epic

 Drops

Legendary

Drops

 Platinum Plate
Armor: Attack:6 Defense:10
 Empyrean Plate
Armor: Attack:10 Defense:6
 Valerian Signet
Amulet: Attack:6 Defense:3
 Opal Pendant
Amulet: Attack:5 Defense:5
 Rockcrusher Axe
Weapon: Attack:14 Defense:10
 Shining Greatsword
Weapon: Attack:10 Defense:14

 Arcane Infused Plate
Armor: Attack:20 Defense:24
 Arcane Defender
Off-Hand: Attack:23 Defense:20
 Hand of the Tempest
Gloves: Attack:11 Defense:9

 Tempest Might
Weapon: Attack:30 Defense:32
 Empowered Arcane
Magic: Attack:16 Defense:22
 Arcane Energy
Ingredient
 Crystallized Arcane
Ingredient

 Tempest Orb


Ingredient
Loot thresholds for 99%:
Epic

: 1 - 9,860,000 (starts at 6,220,000), 2 - 18,680,000 (starts at 11,090,000), 3 - 31,100,000 (starts at 19,550,000)

Legendary

: 1 - 59,030,000 (starts at 33,000,000)
Chances for a specific drop (might be obsolete):
12.54% - Tempest Might
24.44% - Empowered Arcane
30.87% - Crystallized Arcane
32.15% - Arcane Energy

 Helm of Arcane Energies (Helmet: 48 Attack, 53 Defense, 120 Divine Power). Needs:
 Helm of Zeus (Helmet: 30 Attack, 35 Defense, 1 slot, +10 Physical Pierce, +10 Physical Resistance). Needs:
Achievements
Gold Medal: 17,000,000 pure damage in less than 24 hours (before 144 hrs monster timer): +3 Skill Points (one-time award)
Slay Ambrosia 5 times (1,000,000 minimum damage + def): +5 Favor Points
Notes
Introduced: May 17, 2011
Please help the Castle Age community by entering your loot data in THIS spreadsheet.
v

·

e

·

d
Epic Boss
Gildamesh, the Orc King - Colossus of Terra - Sylvanas, the Sorceress Queen - Mephistopheles
Keira, the Dread Knight - Lotus Ravenmoore - Skaar Deathrune - Azriel, the Angel of Wrath
Alpha Mephistopheles - Lion's Rebellion - Corvintheus - Jahanna, Priestess of Aurora
Aurora - Ambrosia - Malekus - Azeron - Fenix, Risen From Ashes - Urmek, Protector of Gaia
Vorak, Devourer of Skies - Baal, Stealer of Souls - Aspect of Death - Cassandra
Epic Team
Dragons - Sea Serpents
Epic World
Cronus, the World Hydra - Battle of the Dark Legion - Genesis, the Earth Elemental
Ragnarok, the Ice Elemental - Bahamut, the Volcanic Dragon - Alpha Bahamut, the Volcanic Dragon
War of the Red Plains - Gehenna, the Fire Elemental - Valhalla, the Air Elemental
Kromash, the Storm Giant - Shardros, the Mountain Giant - Glacius, the Frost Giant
Magmos, the Lava Giant - Typhonus, the Chimera - Kraken - Alpha Kraken
Vermilion, the Tyrant - Kessaran, the Undying - Poseidon, Atlantean King
Abomination, Ancient Slime - Lord of Darkness - Svarog, the Magmapede
Lothorewyn, the Corrupted - Alperon, the Corrupted - Bonegnasher, Death Rat Horde
Verminarch, Death Rat Horde - Ogrimus, Death Rat Horde - Rodenom, Death Rat Horde
Leviathan of the Deep - Leviathan of the Grove - Leviathan of the Void
Leviathan of Wrath - Thanatos, the Reborn - Cronus Astaroth
Agamemnon, the Overseer - Alexandra, the Unbreakable
Vargulis, First Brood - Samael, Wraith Legionnaire - Chromus
Phantom of Fire - Phantom of Lightning - Phantom of Shadow
Draculia, The Blood Dominator
Limited Monsters
Cronus of Ice - Cronus of Earth - Cronus of Fire
Succubus of Desire - Succubus of Greed - Succubus of Agony - Succubus of Nightmares
Special Bosses
Kull, the Orc Captain - Karn, the Minotaur
Guild Bosses
Vincent - Alpha Vincent - Army of the Apocalypse - Giant Arachnid
Guild Conquest Land Monsters
Orc Band - Orc Horde - Orc Host - Ouroboros
Heart of Darkness Co-Op Bosses
Thanatos of Fire & Ice
Siege Weapons

-

Damage and Healing

-

Monster Medals
Community content is available under
CC-BY-SA
unless otherwise noted.