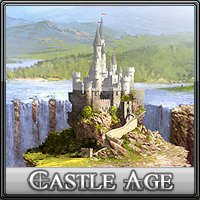 Castle Age is the Facebook-based game developed by Phoenix Age that is the subject of this wiki. It is primarily HTML-based and is only real-time for stats regeneration and battle, monster or raid time countdown.
Facebook integration
Castle Age is integrated into Facebook such that you can only play the game from within Facebook and Castle Age has access to your friends and the ability to publish to their walls. Recently push publication (not initiated by some other Facebook user) from Castle Age (and all Facebook third-party apps) was restricted to e-mail and only when given permission.
The official forums are not integrated with Facebook in any way.
MySpace integration
A MySpace version of Castle Age was introduced around May 7, 2010,[1] but this wiki primarily focuses on the Facebook version. This is the About screen (MySpace link)for the Myspace version (the Facebook version has no equivalent). The MySpace version has a slightly different UI and appears to be similar to an older version.
iPhone app
Nicely designed app for the iPhone (iPod Touch and probably iPad too). It has some limitations over the Facebook browser version, but is very handy when on the go. It *does not* require you to log into your Facebook account to play and you need an internet connection *or use your phone's data plan*, of course.
There should be a seperate wiki for the iphone app as it's very different then the facebook version and does not integrate with each other. A lot of the strategies based on the facebook app do not work on the phone as stated and these are critical pieces for some strategies.
Limitations
Can't use Goblin Emporium.
Can not access some generals
No War access.
No Festival access.
References
External links
Facebook
MySpace
Apple iTunes (App) Store
Other
Castle Age-Forum [ita]
Community content is available under
CC-BY-SA
unless otherwise noted.