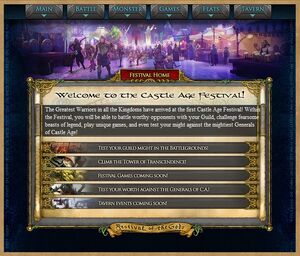 "The Greatest Warriors in all the Kingdoms have arrived at the first Castle Age Festival! Battle other guilds, defeat monsters, and test your might!"
Festival is a link on the Quests menu that leads to several events:
Battlegrounds
Battlegrounds has two sections. Festival Guild Battle is an event where guilds go head to head under Arena Season 3 format. In Duel Champion, players test their PvP prowess by battling other players via Duel. See more...
Tower Of Transcendence
Tower of Transcendence and Tower of Transcendence II are events under the Castle Age Festival where players fight various monsters in a "tower-climbing" style challenge. See more...
Games
Heart of Darkness**
Quests
Crypt
Forsaken Sun
Darkest Hour
Reward: General Persephone
Note** As of June 30, 2011, Heart of Darkness is no longer available as a Festival game. It has now been launched as its own game app on Facebook, "'Castle Age: Heart of Darkness"
Feats Of Strength
Feats of Strength is an event under the Castle Age Festival where players pit their various stats against the generals, monsters, quest areas and missions of Castle Age. See more...
Tavern
Celesta`s quests: Quests about the heroes of CA. These quests look a lot like epic quests from the lands of mist and water, there is an inventory to store quest items and there is also alignment: good, evil or neutral. Rewards are available depending on total alignment points and path choice during the quest.
Rewards:
Hero medal - increase max level by 1
Amulet of Despair - +2 Attack to Strider
Redeeming Light - +5 Energy to Strider
Cursed Bow - -5 Attack to Sophia
Arcane Bow - +6 Attack to Sophia
Silverlight Training Manual - +2 Energy to Penelope
Faith Amulet - +6 Stamina to Penelope

See More (quest details, etc.)...
Gallery
Community content is available under
CC-BY-SA
unless otherwise noted.