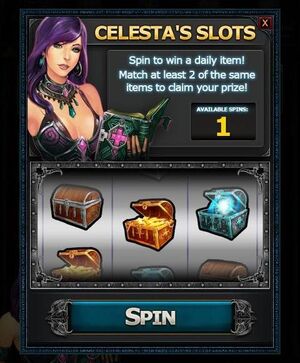 Celesta's Slots is a slots-type game of chance. You receive one roll per day.
It is only available on the iOS app.
As of 3/2017, Daily Spin is now available in FB and web3/4 versions of CA in the Battle News area.

List of possible prizes
Prizes were updated on 8 March, 2017. Old prizes had mostly items of very little value anymore, with update bringing in lots of valuable prizes.
Chest images have been changed earlier. Gold and Epic chests are still easy to recognise, but former Bronze and Silver chests are now both silvery, just one is dim while other is bright.
Also, it doesn't seem to matter whether you get two or three of the same chest. Rewards depend only on whether you get at least two of a chest, and then which chest it is.
Statistics
Web3/4 and Facebook daily spins do not roll chests, they just provide a reward. These are the available rewards from the Web3/4 and Facebook results (5500 trials).
15.6% 30x Common Chaos Shard
14.7% 20x Guild Coin
13.8% 15x Common Chaos Shard
13.5% 10 Energy Potion
13.3% 10 Stamina Potion
06.4% 100x Guild Coin
06.3% Full Stamina Potioin
06.2% Full Energy Potion
05.5% Gold x 1,000,000
01.2% 30x Rare Chaos Shard
01.1% Defensive Hero Potion
00.9% Aggressive Hero Potion
00.9% Balanced Hero Potion
00.3% Gold x 250,000
00.3% Gold x 100,000
Community content is available under
CC-BY-SA
unless otherwise noted.