Straight from Castle Age!
Arena Season 5!
October 17, 2011 by Vulcan
Season 5 of Arena opt-in begins today!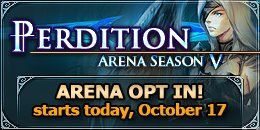 Random Information
Arena!...AGAIN!!!
Just roughly two months after the exhausting Arena Season 4 - Wrath, here comes Arena Season 5 - Perdition! Arena Season 5 retains the same rule set as Arena Season 4 (and presumably, the same bug set...) so there's no need for explanations here other than see the new shiny prizes and start sharpening your mage powers if you obsess over the unique prize.
New prizes: General Gabrielle and stuff
Instead of featuring a regular trophy soldier, the devs offer up a general for the first time in the history of Castle Age Arena. This move should hopefully lure in players, especially general-obsessed collectors, to participate in this redundant format.
The equipment prizes are underpowered at best.

The ultimate prize, Angelic Aegis, maybe useful for those who are non-tower climbers. It's the best shield they can get outside of the divine ones as it is better than Azeron's Sword of Redemption and Redeemer's Aegis for both offense and defense respectively.
The Hero rank prize, Hero's Relicblade, is a slight defensive upgrade to the previous Arena's weapon. It has better defense but not offense though.
The Gladiator rank prize, Gladiator's Battlearmor, is a decent consolation gear which ranks 6th and 7th on offense and defense in its category respectively. A nice chestplate to have since the better ones (except maybe for Plate of the Wild) take to much time, luck and/or FP to acquire.
Other prizes don't even break their respective categories' Top 10 though they may support general Gabrielle as item bonuses.
Other Updates
Perdition was also updated a few days ago and added a new Excavation Quest: Nether Vortex. The quest unlocks after completing the special mission: Redemption.
Gather some Void Crystals from the new excavation quest and alchemize them to a new weapon and skill points!
See also