Recently, The Emporium became a house for the four shops that are guild-related activities:

Most Items in The Emporium can be purchased with Guild Coins. Yet, the enhanced version of The Emporium would involve added cost with other items, such as Lumber and Iron.
An exception applied to the Conquest Paths since it was introduced involves special scores of specialized points that have to be collected daily (or upon player's willingness to report in).
Further details will be available in the Conquest Paths section.
The Guild Shop has special powers for the various Classes for purchase.
The Conquest War Shop has equipment with bonuses for the various Classes for purchase.

Iron and

Lumber are needed in addition to Guild Coins and can be obtained by participating in Conquest Battles.
The Conquest Duel Shop holds items that are unlocked through Conquest Duels. These items are purchasable with Guild Coins and have special properties when Forging them.
The idea of Conquest Paths is to add more benefit to the player through Conquest activities. Note that by 'Viewing the Report' you can see exactly how many points each activity is worth. Each path has points for activity as well as some things one can do to get a percentage bonus to the usual earnings.

The following illustration will demonstrate various information bits.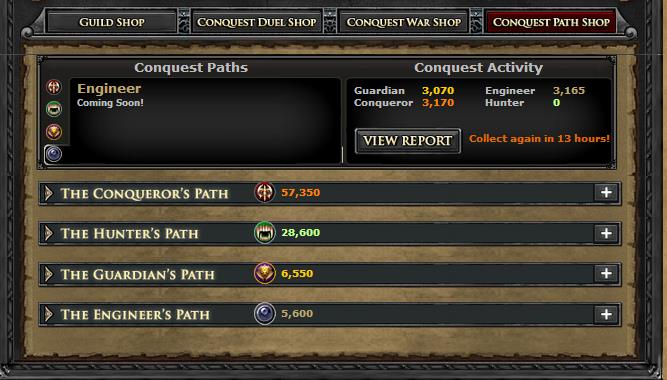 Community content is available under
CC-BY-SA
unless otherwise noted.