Zarevok
"As commander of the Northern Riders, the name Zarevok intimidates even the fiercest of foes."
Special Ability
While equipped, increases Player Attack by X against monsters, based on level.
General Type:
Balanced
Origin:
Land of Earth
Recruitment Cost
Upkeep Cost
25000
0
Stats & Levels
For crystal requirements past level 19, see:
Hero Crystal: General Leveling
For General Promotion info, see:
Generals: General Promotion
Level
Att
Def
Hero XP
Ability
1
3
2
0
5 Attack vs. Monsters
2
4
3
1,200
10 Attack vs. Monsters
3
5
4
2,400
15 Attack vs. Monsters
4
6
5
3,600
20 Attack vs. Monsters
5
7
6
4,800
+50 Attack vs. Monsters
6
8
7
6,000
+80 Attack vs. Monsters
7
9
8
7,200
+110 Attack vs. Monsters
8
10
9
29,400
+140 Attack vs. Monsters
9
11
10
38,400
+170 Attack vs. Monsters
10
12
11
48,600
+200 Attack vs. Monsters
11
13
12
60,000
+230 Attack vs. Monsters
12
14
13
72,600
+260 Attack vs. Monsters
13
15
14
86,400
+290 Attack vs. Monsters
14
16
15
101,400
+320 Attack vs. Monsters
15
17
16
117,600
+350 Attack vs. Monsters
16
18
17
135,000
+380 Attack vs. Monsters
17
19
18
153,600
+410 Attack vs. Monsters
18
20
19
173,400
+440 Attack vs. Monsters
19
21
20
194,400
+470 Attack vs. Monsters
20
32
31
216,600
+500 Attack vs. Monsters
21
33
32
240,000
+530 Attack vs. Monsters
22
34
33
264,600
+560 Attack vs. Monsters
23
35
34
290,400
+590 Attack vs. Monsters
24
36
35
317,400
+620 Attack vs. Monsters
25
47
46
345,600
+650 Attack vs. Monsters
26
48
47
375,000
+680 Attack vs. Monsters
27
49
48
405,600
+710 Attack vs. Monsters
28
50
49
437,400
+740 Attack vs. Monsters
29
51
50
470,400
+770 Attack vs. Monsters
30
62
61
504,600
+800 Attack vs. Monsters
31
63
62
540,000
+830 Attack vs. Monsters
32
64
63
576,600
+860 Attack vs. Monsters
33
65
64
614,400
+890 Attack vs. Monsters
34
66
65
653,400
+920 Attack vs. Monsters
35
87
86
693,600
+950 Attack vs. Monsters
36
88
87
735,000
+980 Attack vs. Monsters
37
89
88
777,600
+1010 Attack vs. Monsters
38
90
89
821,400
+1040 Attack vs. Monsters
39
91
90
866,400
+1070 Attack vs. Monsters
40
117
116
912,600
+1100 Attack vs. Monsters
41
118
117
960,000
+1130 Attack vs. Monsters
42
119
118
1,008,600
+1160 Attack vs. Monsters
43
120
119
1,058,400
+1190 Attack vs. Monsters
44
121
120
1,109,400
+1220 Attack vs. Monsters
45
147
146
1,161,600
+1250 Attack vs. Monsters
46
148
147
1,215,000
+1280 Attack vs. Monsters
47
149
148
1,269,600
+1310 Attack vs. Monsters
48
150
149
1,325,400
+1340 Attack vs. Monsters
49
151
150
1,382,400
+1370 Attack vs. Monsters
50
177
176
1,440,600
+1400 Attack vs. Monsters
51
178
177
1,500,000
+1430 Attack vs. Monsters
52
179
178
1,560,600
+1460 Attack vs. Monsters
53
180
179
1,622,400
+1490 Attack vs. Monsters
54
242
241
1,685,400
+1520 Attack vs. Monsters
55
207
206
1,749,600
+1550 Attack vs. Monsters
56
208
207
1,815,000
+1580 Attack vs. Monsters
57
209
208
1,881,600
+1610 Attack vs. Monsters
58
210
209
1,949,400
+1640 Attack vs. Monsters
59
211
210
2,018,400
+1670 Attack vs. Monsters
60
262
261
2,088,600
+1700 Attack vs. Monsters
61
263
262
2,160,000
+1730 Attack vs. Monsters
62
264
263
2,232,600
+1760 Attack vs. Monsters
63
265
264
2,306,400
+1790 Attack vs. Monsters
64
266
265
2,381,400
+1820 Attack vs. Monsters
65
317
316
2,457,600
+1850 Attack vs. Monsters
66
318
317
2,535,000
+1880 Attack vs. Monsters
67
319
318
2,613,600
+1910 Attack vs. Monsters
68
320
319
2,693,400
+1940 Attack vs. Monsters
69
321
320
2,774,400
+1970 Attack vs. Monsters
70
372
371
2,856,600
+2000 Attack vs. Monsters
71
373
372
2,940,000
+2030 Attack vs. Monsters
72
374
373
3,024,600
+2060 Attack vs. Monsters
73
375
374
3,110,400
+2090 Attack vs. Monsters
74
376
375
3,197,400
+2120 Attack vs. Monsters
75
427
426
3,285,600
+2150 Attack vs. Monsters
76
428
427
3,375,000
+2180 Attack vs. Monsters
77
429
428
3,465,600
+2210 Attack vs. Monsters
78
430
429
3,557,400
+2240 Attack vs. Monsters
79
431
430
3,650,400
+2270 Attack vs. Monsters
80
482
481
3,744,600
+2300 Attack vs. Monsters
Set
3
6
+2 Max Stamina
Max Level
Full Set
+10% Set
Bonus
533
535
3,744,600
+2300 Attack vs. Monsters
Missions & Quests
Associated Equipment

Meat Cleaver (44 Attack, 22 Defense) - Weapon
Item Bonus: +3 attack, +3 defense to Zarevok
note: Limited time item, no longer available.
Zarevok Plate (4 Attack, 9 Defense) - Armor
Item Bonus: +3 defense to Zarevok


Zarevok Defender (5 Attack, 9 Defense) - Off-hand
Item Bonus: +2 max stamina when Zarevok is equipped

Additional Info
War of the Red Plains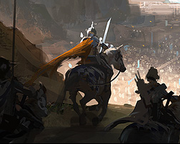 It seems that Zarevok may have played a role on the side of Valeria during the fight of the War of the Red Plains. He may even be visible in the image:
War of the Red Plains says:
"Is that Zarevok? That is a BIG sword!
Notes
Zarevok is the twin brother of Elin.
The Meat Cleaver was the rank 5 prize in the first Arena season. "Rank 5" being the reward for finishing in the top 6-20% of the tournament.
Zarevok is known to be especially potent vs the non-Bahamut dragons and some boss monsters.
Zarevok is considered to be a fan-favorite, and he has received several 'special treatments' as a result:

His twin sister Elin was introduced as a limited time alchemy general.
Both Zarevok, Elin, and the Meat Cleaver play a role in the lore of the Alpha Mephistopheles battle.
Dialogue for the Quest Gift of Earth was altered recently to include dialogue for Zarevok:
Zarevok: Talk too much! Zarevok SMASH YOU!
Etymology
Zarevok may be a reference to Sarevok a main boss from Baldur's Gate 1 (for the PC), a brutish warrior son of the god of murder Bhaal.
Extra bonus vs. monsters at higher levels seems to have been implemented recently (perhaps when Sorkan was added?)
Community content is available under
CC-BY-SA
unless otherwise noted.